February 2, 2023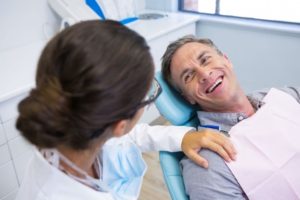 If your dentist has recently informed you that you're going to need a root canal, you might feel inclined to panic—after all, you've probably seen the television shows and movies that feature scary dental visits involving root canals! But believe it or not, you have absolutely nothing to fear when it comes to this procedure, as it won't just benefit your oral health but it's also relatively pain-free! Keep reading to learn more from your dentist about root canals and what you can expect throughout the process.
What Exactly Is a Root Canal?
Root canal therapy is a common treatment that's used to repair and save a tooth that has become compromised, usually due to decay or infection. It's performed when the pulp, or the inner part of the tooth, becomes damaged; during the process, the infected part of the pulp is removed before the tooth is sanitized and then sealed, usually with a restoration like a dental crown. In short, the procedure gives your compromised tooth the absolute best chance of being saved, while also preventing the current problem from spreading to the rest of the mouth!
Signs You Might Need a Root Canal
Root canals are often one of the go-to choices for salvaging a compromised tooth, and the treatment is also incredibly versatile. Here are a few signs that you might need one:
Lingering tooth sensitivity, often related to hot and cold foods/beverages
Sharp pain when biting or chewing
Chipped or cracked teeth
Deep tooth decay
Swollen, painful, or discolored gum tissue, as well as pimples on the gums
How Painful Are Root Canals?
Root canals are designed to relieve the discomfort that you're experiencing and solve the issue, rather than cause more pain! During the procedure, you can expect little-to-no discomfort thanks to the efforts made by your dentist coupled with the help of a general anesthetic.
That said, it is possible to experience some mild to moderate discomfort in the area following a root canal. The area around the tooth might feel a bit sore or tender, and you might also experience jaw soreness since the actual procedure requires you to hold your mouth open for a longer period. That said, this discomfort can often be managed with over-the-counter pain relievers, cold compresses, and good old-fashioned rest and relaxation!
About the Author
Dr. LJ Adam received his dental degree from the University of Pittsburgh School of Dental Medicine and has proudly served patients and families in Worthington for several years. His practice is thrilled to offer a wide range of treatments including root canal therapy! If you or a loved one is suffering from tooth pain and in need of assistance, don't hesitate to contact the practice today to get your oral health back on track. Telephone: (724) 297-3446.
Comments Off

on Are Root Canals Painful?
No Comments
No comments yet.
RSS feed for comments on this post.
Sorry, the comment form is closed at this time.