Smile Restoring Dental Crowns & Bridges in Worthington, PA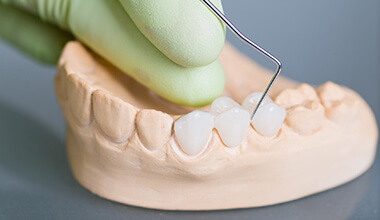 In our office, dental crowns are a common restorative dentistry treatment used in the repair of a variety of oral health concerns including:
Decay too advanced to be repaired with a simple filling
Dental damage that has destroyed too much of the tooth for more conservative repair
Cosmetic enhancement of the smile if teeth are stained, cracked, misshapen, or otherwise need to be improved cosmetically
To protect a root canal treated tooth, we may place a crown to ensure the treated tooth's strength and structural integrity
Two dental crowns can be attached to healthy teeth and fused to one or more consecutive lost teeth to form a fixed bridge tooth replacement prosthetic
Dental crowns and bridges can also be attached to implant posts as part of dental implant supported tooth replacement
Whatever the reason you're in need of a crown or bridge, Dr. LJ Adam and his team offer high quality crowns and bridges to repair dental damage and replace missing teeth, leaving you with a flawless smile. Keep reading to find out more, or call our team to schedule an appointment today.
What Materials do You Use for Dental Restorations?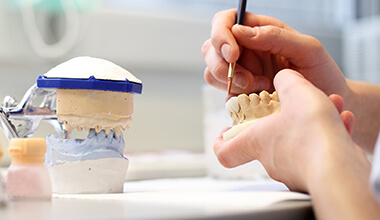 We use a variety of materials to create strong, beautiful dental crowns and fixed bridges. Gold is often recommended for back teeth. While this material is slightly darker than natural dental structures, it is also the strongest material available. Additionally, gold creates the least amount of wear against opposing teeth. Porcelain fused to metal crowns combine the strength of gold crowns with a more natural appearance. However, the porcelain does wear away over time revealing darker metal below. The most cosmetic solution is all-ceramic. These crowns retain their natural appearance even after years of natural wear.
How are Dental Crowns & Bridges Placed?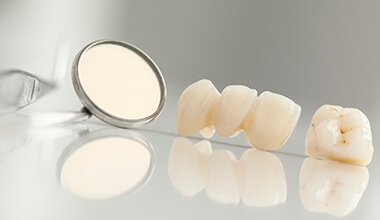 Dental crowns and bridges are placed over the course of two appointments. During the initial visit, we prepare your tooth or teeth. Then, we capture impressions that will be used by our dental lab to create your crown or bridge, and place a temporary restoration to protect the tooth. When we receive the final restoration, you'll return to exchange the temporary for a custom crown or bridge. We also offer same day restorations using the CEREC system.