Same-Day Smile Repair with CEREC®
If you're in need of a dental crown but you don't want to worry about scheduling multiple appointments or waiting weeks to receive your final restoration, Dr. LJ Adam and his dentistry team are proud to offer same day smile repair using the state-of-the-art CEREC system. If you're interested in finding out more or would like to schedule a CEREC consultation, call our team today. We'll be happy to explain all of your smile restoration solutions and help you develop a plan to achieve a flawless smile. We welcome patients from Worthington and surrounding communities including Fenelton and Butler.
What is CEREC?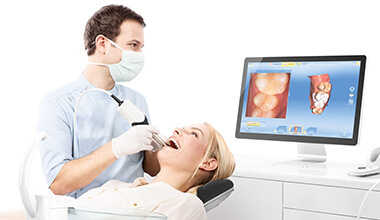 CEREC stands for chairside economical restoration of esthetic ceramics. That's quite the mouthful, but it simply means we're able to design and craft an advanced dental restoration like a crown or bridge using technology available in our office. Rather than designing the restoration during one appointment, sending the design to a lab, and placing the restoration at an additional visit, we can complete this entire process on a single day.
How does CEREC Work?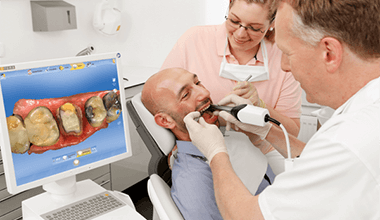 Essentially, same-day restorations are crafted and placed in exactly the same way that traditional dental restorations are, but the process is all completed in our office rather than in conjunction with a dental lab that crafts the crown or bridge. CEREC is a computer assisted design and manufacture (CAD/CAM) system that gives Dr. LJ the ability to prepare teeth, capture digital bite impressions, design the restoration, and send the design to an in-office milling unit where an all-ceramic crown is made. Then, he attaches the dental crown on the same day. That means you're able to visit our office with a damaged tooth and leave the same day with a fully repaired smile. This is much more convenient for many patients, since there's no need to schedule multiple appointments. Additionally, CEREC restorations are great for patients experiencing dental emergencies as we're often able to repair dental damage on the same day you call.