Secure Tooth Replacement with Dental Implants in Worthington
For patients missing any number of teeth, versatile and natural dental implant supported tooth replacement may be the best solution. Dental implant posts replace the lost root structure of a missing tooth and offer natural feeling support for prosthetic teeth. In most cases, we're able to use dental implants to support any number of replacement teeth. Whether you're missing a single tooth or a full arch of teeth, contact the dental office of LJ Adam, DMD to schedule your dental implant consultation today.
Implant-Supported Crown and Bridge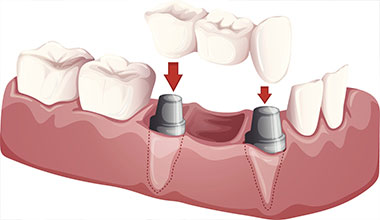 We'll work with local specialists on the first phase of treatment. This initial step in the tooth replacement process involves surgically placing dental implants into the gum line. Once this process is complete, you'll return to our office so we can attach your replacement tooth or teeth. If you've lost one to four consecutive teeth, we will likely recommend a dental implant supported crown or bridge. A crown can be attached to a single implant post to replace one tooth. Two crowns can also be fused together and typically supported by a single implant, but a fixed bridge that consists of three or more teeth will need to be supported with two dental implants, one at each end.
Implant-Supported Dentures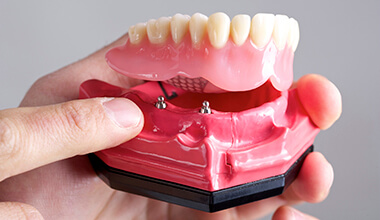 For more extensive tooth loss, we'll likely recommend dental implant supported partial or full dentures. Partials are used to replace a number of missing teeth along an arch. Replacement teeth are fused to a gum-colored base, and the partial denture is held in place with strategically positioned dental implant posts. We'll use the smallest number of implants possible to provide adequate support while minimizing surgical impact. Full dentures are similarly crafted from a gum-colored base that supports an entire row of replacement teeth. In most cases, we're able to provide adequate support for the full row of teeth with just four to six strategically placed implants.