Dentures – Worthington, PA
Recapture Your Smile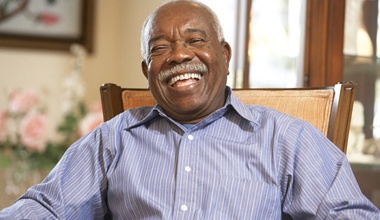 Dentures in Worthington are one of the most popular and reliable methods of tooth replacement available. Designed to give patients suffering from tooth loss the chance to eat, speak, chew, and smile with greater ease, these trusted prosthetics make it possible to recapture one's smile and embrace a better quality of life. Dr. LJ Adam understands the challenges that can come when faced with multiple or even an entire row of missing teeth, which is why our team is here to provide exceptional service and top-tier dental prosthetics to help patients embrace greater confidence. Contact us today if you think you might be eligible to receive partial, full, or implant dentures.
Who is a Good Candidate for Dentures?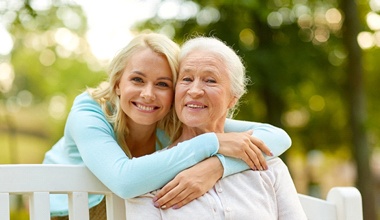 Do you have healthy gums? Are you in good overall health? Do you have enough jawbone to adequately support your new teeth? If so, there is a good chance you'll be eligible to receive dentures. Whether it is a partial that is designed to replace two or more teeth or a full or implant denture that is used to replace an entire arch, these unique solutions can give you back your aesthetics while also helping to boost your confidence and allow for greater functionality.
Scheduling a consultation with Dr. Adam is the best way to determine if you are eligible for treatment. During this visit, we will examine your oral cavity and take the necessary images to create a treatment plan that works for you.
What Are the Different Types of Dentures?
During your appointment, your dentist in Worthington will go over the three different types of dentures that are available:
Partial Dentures
Even if you're only missing two or three teeth, the gap it creates can make it much harder for you to properly eat and speak. By crafting a partial denture out of a gum-colored, acrylic base and artificial teeth (made of porcelain or acrylic), we can easily attach this prosthetic into place using metal clasps that connect to your healthy, natural teeth. Once in place, it will fit like a puzzle piece, blending in to create a seamless smile.
Full Dentures
If it is an entire arch of teeth that is missing, we can use the same materials to create full dentures. If designed for the upper arch, your denture will cover the roof of your mouth. If made to replace teeth on the lower arch, your prosthetic will look similar to a horseshoe to allow room for your tongue. The only real difference between a full and partial denture is that a full prosthetic is held into place using your natural suction, not metal clasps.
Implant Dentures
While traditional partial and full dentures are popular among most adults, implant dentures are enjoyed by more than 3 million people in the United States. With that number increasing by 500,000 each year, the permanency and longevity these prosthetics offer cannot be matched by any other tooth replacement solution. Using titanium posts that are surgically placed into your jawbone, they fuse with the bone tissues and create a firm foundation to support a customized denture that is secured to the top.
Benefits of Dentures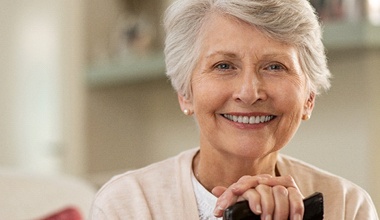 Dentures offer an array of benefits that will leave you feeling happier, healthier, and more confident than ever before. Some of the advantages you can expect include:
Clearer speech
The ability to eat more nutrient-rich foods to help you maintain greater oral and overall health
A prosthetic that can last 5-10 years (full and partial dentures) or a lifetime with proper care (implant dentures)
A more youthful appearance because of how your dentures fill out your cheeks and create a fuller look
Greater stimulation to your jawbone to prevent changes to your facial shape (implant dentures)