Dental Implants — Worthington, PA
Regain Your Healthy Smile with Dental Implants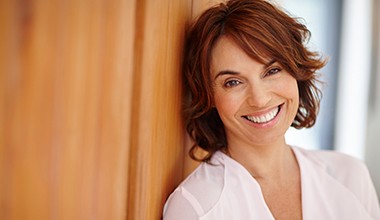 You only get one set of permanent teeth to last for an entire lifetime, but things happen. Accidents, infections, and mishaps can occur, even despite best efforts, leading to tooth loss. The gaps in your teeth can make you want to hide your smile and can cause oral and overall health problems. If you've lost one or more teeth, you don't have to simply accept a subpar smile for the rest of your life—Dr. Adam and our team can help you find the right replacement option for your missing teeth. The most natural choice, of course, is dental implants, which consist of surgically positioned titanium posts that are topped off with dental prosthetics. Call our office today and schedule a consultation to learn more!
Why Choose Dr. L.J. Adam, DMD for Dental Implants?
Works with Local Dental Specialists to Perform Placement
Modern Technology in a Warm and Welcoming Family Dental Office
Multiple Flexible Financing Options and Transparent Fees
What Are Dental Implants?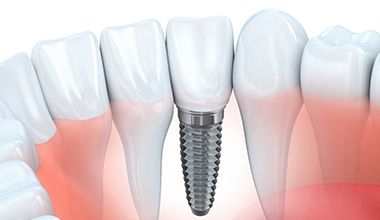 Dental implants are designed to act as not just replacement teeth, but also replacement tooth roots. The root is what is responsible for stimulating bone tissue, which does far more for your daily habits than you might realize. Each implant consists of a titanium post (the root replacement), a restoration, and an abutment that connects the two together to create one seamless prosthetic tooth. Not only are you able to gain a complete smile, but you can expect to chew your favorite foods with ease and smile with confidence. Thanks to the materials used to create your restoration, only you and your dentist will know you had a tooth replaced.
The 4-Step Dental Implant Process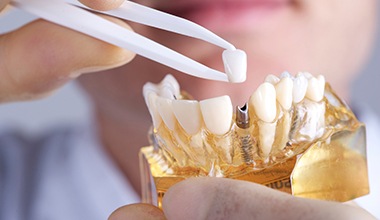 Compared to traditional dentures and bridges, the process of getting dental implants in Worthington is significantly lengthy. Although it can take several months to a year or longer to finish rebuilding your smile, let us assure you that the wait is worth it!
To make sure you receive the best possible quality of care, Dr. LJ works with local oral surgeons to handle the placement of the dental implants while performing other aspects of the treatment himself. Every patient's journey is slightly different, but when getting dental implants, you can typically expect to go through four basic phases.
Initial Dental Implant Consultation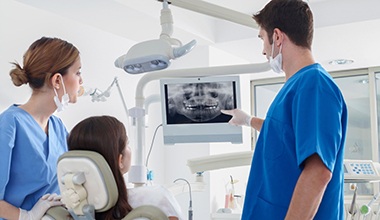 First, you'll have a preliminary visit with Dr. LJ to find out whether dental implants are right for you. By performing a visual exam and taking detailed X-rays, he'll review your oral health and jawbone density. Based on his findings, you may need one or more procedures before dental implants can safely be placed. For example, if you've dealt with jawbone loss, then a bone grafting procedure might be necessary to give the implants the powerful foundation they need to stand the test of time.
Dental Implant Surgery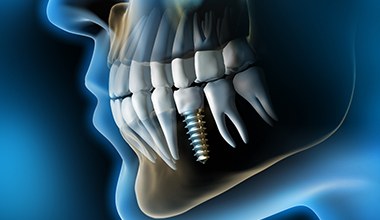 As mentioned earlier, Dr. LJ partners with a network of dental implant specialists to ensure that your surgical procedure is as safe, effective, and comfortable as possible. Once you've been deemed ready to receive the implants, we can schedule your placement surgery. The specialist will first numb your mouth to prevent you from feeling pain. Then, they'll create tiny incisions in your gums, insert the implant posts into your jaw, close up the gums, and place caps over the posts to protect them throughout the healing process.
Dental Implant Osseointegration & Abutment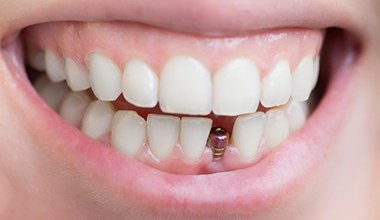 Following your surgery, you'll spend the next three to six months waiting for osseointegration to take place. Osseointegration is the process of your jawbone growing around the implant posts until they've essentially become part of your own body. This gives the implants the strength they need to support any number of replacement teeth for years to come.
When your implants have finished integrating with your jawbone, you'll complete another minor surgical procedure to receive your abutments. Abutments are small metal pieces that allow your restorations (prosthetic teeth) to be attached to your implants. As you spend a few weeks healing from the abutment placement surgery, your final restorations will be crafted from careful impressions that our team has taken of your mouth.
Delivery of Dental Implant Restoration(s)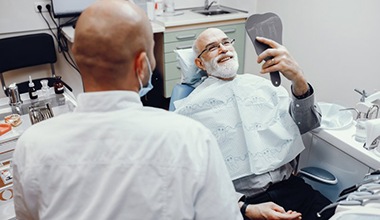 Lastly, you'll return to our office to have Dr. LJ place your custom-made dental crown, bridge, or denture on top of your abutments. After we check to make sure that your bite feels natural, you'll be free to enjoy having a full, healthy smile again!
Benefits of Dental Implants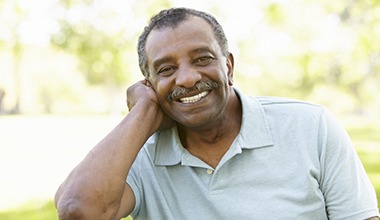 Compared to other methods of replacing missing teeth, namely bridges and dentures alone, dental implants have many advantages that help you recreate a healthy smile, including the following:
Stronger jaw health. Implants keep the jawbone stimulated, so you can maintain support for your remaining teeth and retain your youthful facial structure.
Secure bite. Because dental implants become embedded in your jawbone, just like natural teeth, you can bite and chew without worrying about your replacement teeth slipping.
No impact on surrounding teeth. Both bridges and partial dentures rely on your healthy teeth for support, but dental implants don't, helping to preserve your natural teeth longer.
Long lifespan. Dental implants can last for 30 or more years when you take care of them.
Who Dental Implants Can Help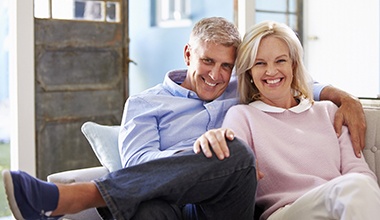 In most cases, we're able to use dental implants to support any number of replacement teeth. Whether you're missing a single tooth or a full arch of teeth, we'll work with local specialists on the first phase of treatment. This initial step in the tooth replacement process involves surgically placing dental implants into the gum line. Once this process is complete, you'll return to our office so we can attach your replacement tooth or teeth.
Missing One Tooth
A crown can be attached to a single implant post to replace one tooth, and two crowns can also be fused together and typically supported by a single implant.
Missing Multiple Teeth
A fixed bridge that consists of three or more consecutive teeth will need to be supported with two dental implants, one at each end. Otherwise, we can combine dental implants with a partial denture to replace several missing teeth along an arch.
Missing All Teeth
Even if you have suffered total tooth loss, you can benefit from dental implants. Using as few implants as possible, usually four to six, we can securely attach your full dentures for long-term use.
Understanding the Cost of Dental Implants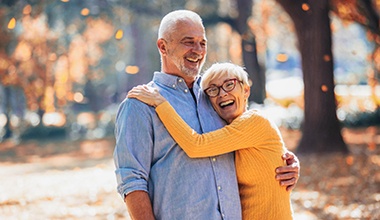 As you can see, there are many possible solutions with dental implants, so much so that it is difficult to pinpoint a general estimate. The number and location of the dental implants, plus the restoration that will be used, determine how much your treatment will cost. That's why it's so important to have a consultation with Dr. Adam. He will evaluate your mouth and discuss your options with you. Then, our team can review your insurance coverage and help you determine the amount that you're responsible for. We can help make this whole process as smooth and painless as possible, so schedule your consultation with us today!
The Stages of Dental Implant Treatment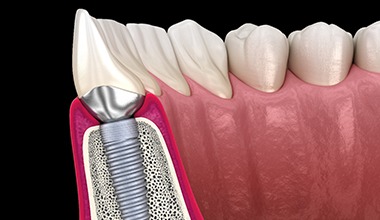 The dental implant process takes multiple appointments that are spread out over the course of several months to a year. Each of these visits incurs their own unique cost, so you don't have to pay for the entire treatment all at once. Because of this, you'll be able to pay for your care over a longer period of time, rather than having to do so all in one lump sum.
Are Dental Implants Worth the Investment?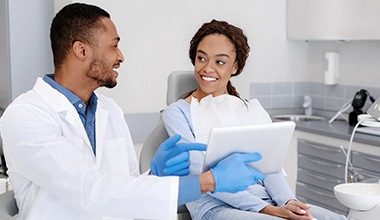 While dental implants cost more up front than traditional bridges or dentures, they could actually end up saving you money in the long run. With the right aftercare, they can last for decades, maybe even a lifetime. You'd spend less time and money on frequent repairs and replacements like you would with dentures and bridges.
Dental implants also offer unmatched health benefits that other solutions don't, such as jawbone growth that supports your facial muscles and keeps you looking young. Most of our dental implant patients have found that they were absolutely worth the investment.
Does My Dental Insurance Cover Dental Implants?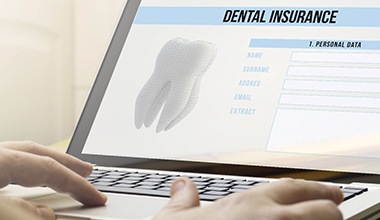 Many dental insurance carriers don't cover the cost of implants, but every plan is different. Even if they don't pay for the implants themselves, they might mitigate the cost of your bone graft, restoration, etc.
Our friendly and knowledgeable team can take a look at your insurance plan and maximize any benefits you may have to lower your cost as much as possible. If you're uninsured, or still need help financing your implants, we offer a dental savings plan, in which you get 15% off most treatments in exchange for a low annual fee. To find out how much your new and improved smile will cost, schedule a consultation with us today!
Maintaining & Caring For Your Dental Implants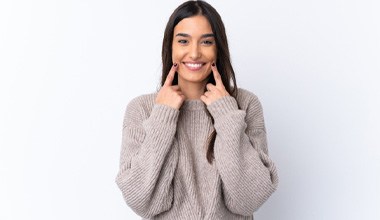 Dental implants are one of the most effective ways to replace missing teeth, having a success rate of over 95% even 10 years after being placed. With proper care, you can expect your new pearly whites to last a lifetime! But what exactly can you do to ensure you make the most of your restorations? Fortunately, you won't have to practice any special treatments, as maintaining them will be as simple as preserving your natural teeth. Here are five best practices for dental implant care in Worthington to help keep your smile in pristine condition!
Make Oral Hygiene a Priority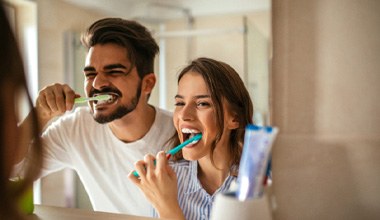 While your dental implant(s) won't get cavities, you'll still need to practice proper oral hygiene every day. This will help you prevent common dental health problems, such as gum disease and decay, which can increase your chances of avoiding dental implant failure. The best way to maintain your smile daily is by brushing twice a day for two minutes, flossing at least once, and rinsing regularly with mouthwash.
Eat a Healthy Diet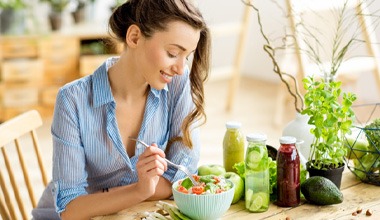 Since you can regain 80% or more of your natural biting power with dental implants, you won't have to worry about any food restrictions with your restorations. This means you can fully enjoy your favorite meals as well as stick with a healthier diet. To preserve your dental implants, be sure to not overindulge in foods that are too hard or sticky, as these can cause damage or complications with your new teeth. Try eating meals that are rich in vitamin C and calcium to promote strong bone tissue around your titanium posts.
Break Poor Oral Habits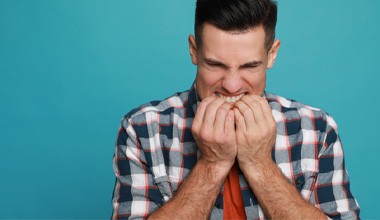 Although your dental implants will be durable enough to withstand the immense pressure from chewing, they can still be susceptible to damage. To make the most of your investment, you'll want to break bad oral habits, such as chewing or smoking tobacco, which significantly increases your risk of dental implant failure. Make sure to avoid chewing or biting on hard objects, like ice or your fingernails, and don't use your pearly whites as tools. By staying clear of these habits, you'll ensure your restorations can last much longer.
Protect Your Dental Implants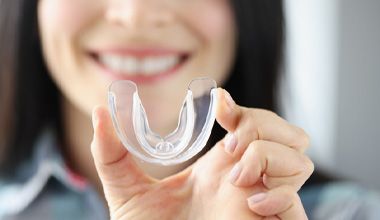 If you grind your teeth at night (or awake), you may require a nightguard for bruxism to help preserve your dental implants. The excessive pressure from clenching your jaws can cause damage over time. If you also play sports or enjoy physical activities that have the potential to harm your smile, then you might consider investing in custom-made mouthguards to cushion your pearly whites. Speak with our team if you're interested, and we can provide nightguards for bruxism as well as recommend the best mouthguard products for you.
Schedule Regular Dental Checkups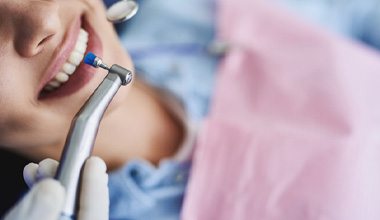 The most essential way to maintain your dental implants and natural smile is to visit us at least twice a year for regular checkups and cleanings. We'll be able to evaluate your oral health and address any developing issues before they can worsen. Not only can we put a stop to any complications ahead of time, but we'll also ensure your dental implants remain in good condition for the long run.
Dental Implant FAQs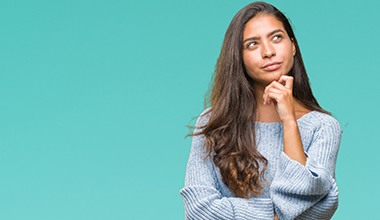 Are you ready to replace your missing teeth with dental implants in Worthington? You're making a smart decision; however, we understand if you still have a few apprehensions before you're ready to get started. That's why we take the time to explain the entire process during your initial consultation. To help ease any anxieties until your appointment, here are the answers to a few of the most common questions patients ask us about dental implants.
Can I get dental implants if I have gum disease?
Although its preventable, gum disease is the leading cause of tooth loss. Unfortunately, if you've lost teeth from it, you won't be a candidate for dental implants until after the infection has been resolved. Periodontal therapy will add another step to your plan; however, it's time well spent to ensure your new smile has the healthy foundation it needs to thrive.
Will I need bone grafting?
Many patients who are interested in dental implants will require bone grafting before their placement surgery. Although it's common, the additional procedure isn't always necessary. Your cosmetic dentist in Worthington will review a CT scan of your jaw to evaluate the density of your bone. If you have weakened areas from infection or prolonged tooth loss, we might recommend the procedure to add thickness to the compromised bone. After your bone integrates with the graft, your jaw can support the posts for many years with the right aftercare.
Can dental implants fail?
Dental implants offer the most predictable results when used to treat tooth loss. In fact, they have over a 95% success rate to last for decades. Although it's rare, dental implants can fail. Most often, it's the result of a preventable infection called peri-implantitis. You can help safeguard your smile by committing to your oral hygiene at home and visiting your dentist at least twice a year for a cleaning and checkup. If you develop any concerning signs in between routine appointments, like pain or redness, don't hesitate to contact our office for an appointment. Quick intervention can help prevent complete dental implant failure to protect your investment.