Repair Your Smile with Restorative Dentistry in Worthington
While the dental team of Dr. LJ Adam always encourages patients to partner with us to prevent common oral health concerns, only the very luckiest patients are able to avoid every dental health issue for their entire lifetime. That's why Doc LJ is here to help you repair damaged teeth and restore the form, function, and appearance of your smile. Call our Worthington, PA team to find out more about restorative dentistry or to schedule an appointment today. We welcome patients from Kittanning, Adrian, and surrounding communities.
Dental Crown & Bridge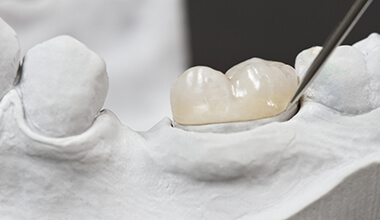 Dental crowns are used to repair damaged or decayed teeth. They fit completely over the top of the tooth in need of restoration, and return the lost structure and strength to the bite. Dental crowns can also be used to support one or more replacement teeth. Two crowns are placed over healthy teeth on either side of a missing tooth, and a replacement tooth is fused between them. This tooth replacement prosthetic is known as a fixed bridge.
CEREC One-Visit Dental Restorations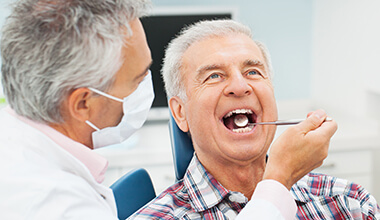 Traditional crowns, bridges, and other more advanced dental restorations used to require two appointments. During the initial visit, the tooth was prepared and the restoration was designed. A temporary would be placed to protect the tooth while a lab created the custom restoration. Then, patients would return to the office to exchange their temporary for a custom restoration. Using the state-of-the-art CEREC system, we're able to complete this entire process in just one visit to our office.
Partial & Full Dentures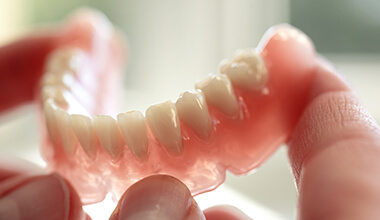 For more extensive tooth loss, we will likely recommend partial or full dentures. These prosthetics use a gum-colored base to support a number of replacement teeth. Partials fill in the gaps in patients' smiles and attach to surrounding healthy teeth with metal clasps. Full dentures are crafted to fit snuggly against the gums replacing an entire row of teeth. The close fit between the dentures and gum tissue creates suction that keeps the denture in place.
Root Canals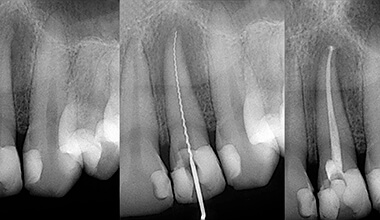 Root canals are necessary when tooth decay or dental trauma has reached the interior layer of the tooth. Known as pulp, this dental layer houses the entire nerve system of the tooth. When dental damage reaches the pulp, patients experience severe toothache and tooth sensitivity to heat and cold. Root canal therapy allows Dr. LJ to remove the pulp and nerve of the tooth almost immediately relieving pain. The tooth is then refilled with a similar substance, sealed, and in most cases, a dental crown is placed over the tooth for added support and protection.