Periodontal Therapy for Worthington Residents
Periodontal disease, better known by its common name gum disease, affects millions of US adults. Dr. LJ Adam and his skilled dentistry team screen for early indicators of gum disease as part of every six-month dental checkup at our office, and we partner with patients to make sure they maintain healthy teeth and gums. However, for those patients who do experience gum disease, we offer periodontal therapies to renew oral health. Call our team to find out more or schedule your appointment today.
Symptoms of Gingivitis & Periodontitis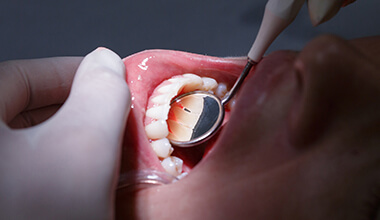 There are two main forms of gum disease. The early stage of the disease is gingivitis, and the advanced form is known as periodontitis. In the gingivitis stage, symptoms are minimal and typically go unnoticed. However, periodontitis has a number of noticeable health effects you should let Dr. LJ know about right away including:
Inflamed or irritated gum tissue
Receding gum line
Sores or infection at the gum line
Sore or itchy gums
Bleeding gums when brushing and flossing
Chronic bad breath
Teeth that shift or a bite that doesn't fit together properly
Tooth loss
Scaling & Root Planing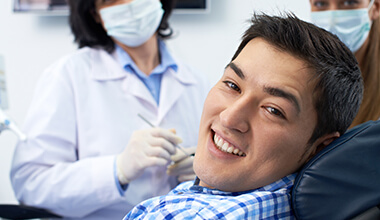 We typically begin gum disease treatment by scheduling patients for more frequent professional teeth cleanings. This reduces the risk for continued oral health concerns related to gum disease. If we don't see improved oral health with these more frequent cleanings, we may recommend more advanced treatments combining scaling and root planing. Scaling is the systematic removal of plaque and tartar buildup below the gum line which reduces gum tissue irritation and allows the gums to begin reattaching to teeth diminishing the depth of the pockets between teeth and gums and reducing risk for gum disease advancement. Root planing is the smoothing of tooth roots that makes it more difficult for future buildup of plaque and tartar.