Advanced Technolgy
Many of our patients think there's nothing new in the world of dentistry, but though the changes may be subtle, we are constantly incorporating the latest dental techniques and technologies into our dental office. At the dental office of LJ Adam, DMD, we stay informed about all the latest dental techniques and technologies, so we always have the best possible dentistry services available for our patients. Call to find out more or schedule an appointment with us today.
Intraoral Camera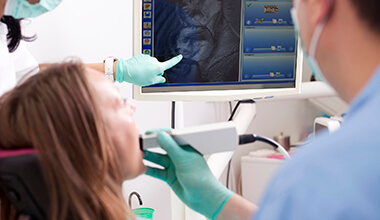 We use an intraoral camera to teach patients about their current oral health condition and what possible treatments will improve their oral health in the future. This camera is small and resembles a pen. We quickly capture images of your smile, and Dr. LJ can review these images with you on our chairside computer monitor where he'll zoom in, highlight, and otherwise adjust the image to help you better understand your oral health.
Digital X-Rays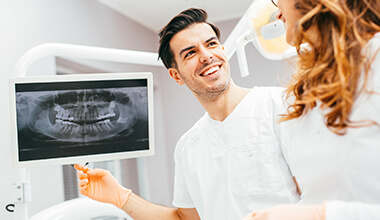 Traditional x-rays like traditional photos had to be captured with one device and manually developed using hazardous chemicals. This was a cumbersome and time consuming process that put our team at risk as they handled the developing chemicals. Once these x-ray images were developed, they had to be viewed on a special light board, stored in our office, and physically sent to labs, specialists, and insurance providers. In addition to completely removing the need for hazardous developing chemicals from the process, digital x-rays significantly reduce the amount of radiation patients are exposed to, making them a safer diagnostic tool. The images from our Dexis digital x-ray scans are crystal clear and instantly available for us to look at on our chairside monitors. Dr. LJ can store these scans electronically, so we'll be able to compare your x-rays between appointments for more accurate diagnosis and treatment planning.
Digital Impression System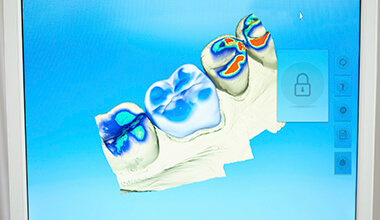 If you've ever gotten a dental crown, bridge, or other advanced restoration, you likely had to create a bite impression. These are molds of your prepared teeth used by our dental lab to craft custom restorations. We use our CEREC system to capture digital bite impressions that can be used with our in-office milling unit or sent to our lab. These digital molds of the bite are easier and more comfortable to capture, and best of all, they're immediately available for our dental lab or CEREC system to start crafting your restoration right away.