December 4, 2022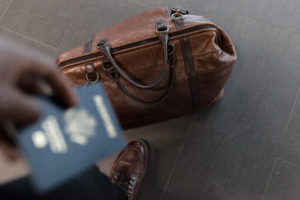 If you'll be heading out of town for the holidays, it's easy to deviate from your regular routines, like using your CPAP. Not following your treatment plan for even a few days can affect your mood, energy level, and quality of life. You don't have to feel run down from a bad night's rest by following your treatment, even when you aren't at home. Here are 6 ways to make traveling with sleep apnea hassle-free to feel your best during the holidays.
1. Check Airport Restrictions
Certain airlines have strict regulations for what can pass through security or get onto a plane. Review the airline's guidelines at least 2 weeks before your departure to avoid any delays while at the airport.
2. Carry Your Prescription
Carry a copy of your prescription in your purse or wallet. Although there shouldn't be any problems at the airport, it can be handy to have with you if there are any questions about your CPAP. You will also have a copy just in case your machine gets lost or damaged while you're away.
3. Pack the Essentials
Pack your CPAP in its storage case to protect it while you're traveling. Don't forget to pack any cleaning products. Be sure their sizes and quantities adhere to the airport's guidelines.
4. Consider the Power and Supply
If you're heading out of the country, check your destination's power supply. You may need to bring a universal adaptor with you. It is a good idea to pack an extension cord in case there aren't any outlets near the bed where you'll be staying.
5. Pack Carefully
Pack your CPAP in your carry-on luggage. This allows you to keep a close eye on it to prevent it from getting damaged or lost along the way. You'll have peace of mind knowing your CPAP will get from point A to point B with no unexpected complications.
6. Consider an Oral Appliance
If you have mild-to-moderate obstructive sleep apnea, you may be a candidate for an oral appliance. The custom-fit appliance moves the tongue or lower jaw into a more comfortable position to prevent pauses in breathing. You won't have to worry about power supplies, bulky storage cases, or cleaning products. An oral appliance will fit in your pocket for a convenient, discreet solution to manage your sleep apnea.
It can be difficult to sleep in an unfamiliar bed, and the last thing you need is breathing disturbances making it even more challenging. With the right preparation and treatment, you'll get a good night's sleep to feel well-rested to enjoy your time away.
About Dr. LJ Adam
Dr. Adam earned his dental degree from the University of Pittsburgh School of Dental Medicine and regularly continues his education in advanced treatments and technologies, like sleep apnea therapy. He offers the latest solutions to treat sleep apnea and snoring. If you're ready to cut ties with your CPAP, contact our office today to request a consultation.
Comments Off

on 6 Tips for Traveling with Sleep Apnea
No Comments
No comments yet.
RSS feed for comments on this post.
Sorry, the comment form is closed at this time.