November 29, 2022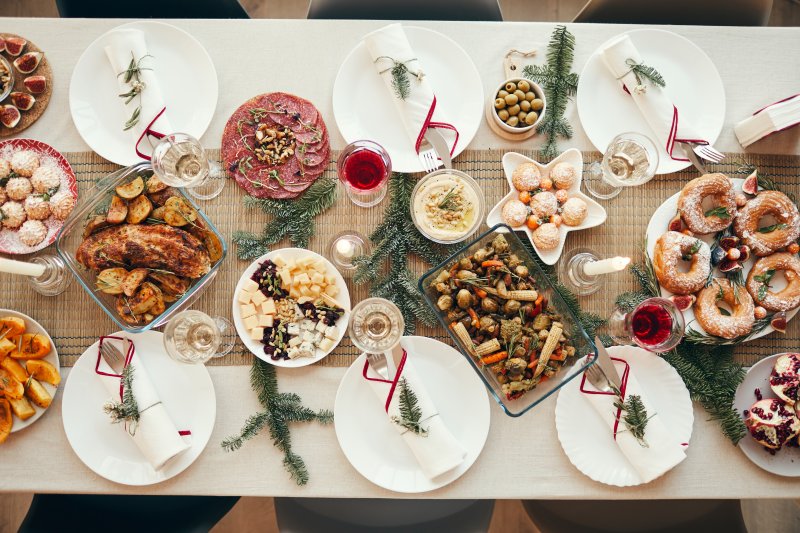 When people think of the holiday season, they think of the food. From Thanksgiving turkey to Christmas ham, there's always a delicious meal to look forward to this time of year. That said, some common holiday foods can be pretty tough on the teeth. Some can even cause chips or cracks that will require an emergency trip to the dentist. Here are a few holiday staples you should be a little careful of this year.
Hard or Sticky Candy
The thing that makes candy delicious is exactly what makes it dangerous: sugar. Sweets are bacteria's favorite food, and a lot of sugar in your mouth can lead their colonies to flourish. Those bacteria secrete a mild acid, which leads to tooth decay.
It isn't just the amount of sugar you eat, but how long it stays in your mouth that determines the extent to which it contributes to tooth decay. That means some of the candies most popular during the holidays, like candy canes and caramels, are dangerous for your teeth. The longer these linger in your mouth, the more damage they do to your teeth.
Biting down on hard candies is also a hazard in itself, as that can lead to a chipped or cracked tooth if you aren't careful.
Wine & Champagne
New Year's Eve is always a lot of fun, and for many people, the highlight is a tall flute of champagne. That's fine, but drinking without hydrating can cause problems for your oral health. Dehydration reduces the amount of saliva in the mouth, which prevents food particles from being properly washed away. Having a bit too much to drink while snacking on hors d'oeuvres is a recipe for dental disaster. Additionally, bubble drinks like sparkling wine contain CO2, which is converted into a mildly corrosive acid in the mouth, which can cause tooth decay. It's perfectly fine to enjoy your New Year's Eve, but you should try to sip a glass of water along with your wine.
It's great to enjoy this holiday season to the fullest. Just be sure to keep up with your dental hygiene routine, and don't overindulge in harmful snacks. Your teeth will be sure to thank you.
About the Author
Dr. LJ Adam watched his parents build Adam Associates Family Dental from the ground up, and was inspired by their passion and dedication to their craft. Now, over 40 years later, he works hard to keep up the standard of excellence that his parents have set. Dr. Adam earned his DMD from the University of Pittsburgh School of Dental Medicine in 2004, and he has attended many continuing education courses since. If you have any questions about how to take care of your teeth this Christmas, he can be reached at his website or by phone at (724) 297-3446.
Comments Off

on Popular Holiday Foods That Could Hurt Your Teeth
No Comments
No comments yet.
RSS feed for comments on this post.
Sorry, the comment form is closed at this time.