August 4, 2021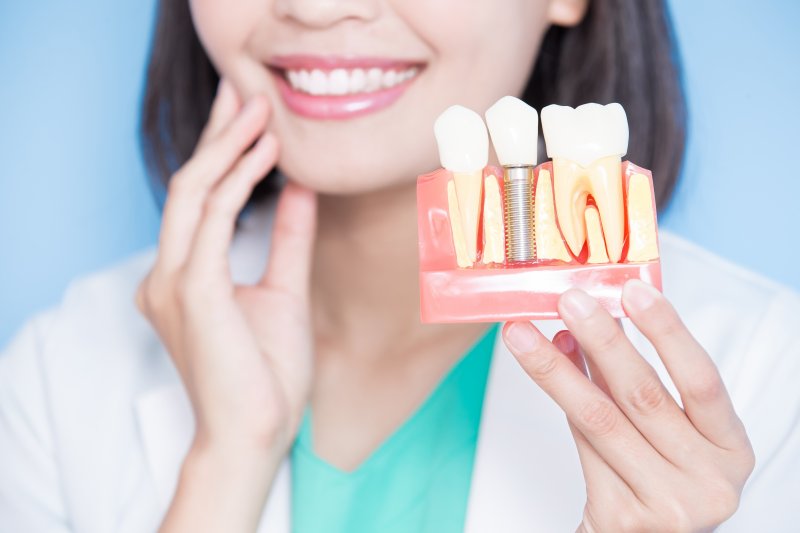 If you have missing teeth, you're probably researching your options to restore a fully functioning smile. Well, dental implants are an excellent solution to consider! They're considered the gold standard of tooth replacement, helping patients enjoy a grin that looks, feels, and acts just like their old one. But before pulling the trigger on treatment, you might be questioning whether it's the right choice for you. Although a dental professional is the most qualified person to make that judgment, here are five characteristics that can help you determine whether you're a good dental implant candidate.
Healthy Gums
Dental implants are able to provide stable and durable results because they're surgically inserted into the jawbone. For treatment to be successful, your gums must keep them firmly anchored. However, if your gums are compromised in any way, they won't effectively hold the titanium post in place. Therefore, patients with periodontal disease or unhealthy gums will need to undergo periodontal therapy before becoming eligible for implants. Otherwise, bacteria can attack the bone supporting the implant, causing it to fail.
Commitment to Oral Health
Good oral hygiene is crucial to maintain the health of your dental implants and surrounding gums. Although this method of tooth replacement is relatively low maintenance, you must continue to practice proper dental care to prevent complications. Brushing your teeth twice a day, flossing daily, using mouthwash, and regularly seeing your dentist will help you enjoy your new smile for years to come!
Sufficient Bone Density
Since dental implants are anchored into the jawbone, you must have sufficient bone density for successful treatment. Osseointegration (the fusion of implants to the bone) is a crucial part of the process as it ensures your implants stay in place permanently, providing unmatched stability and a strong bite force. However, if you don't have an adequate amount of bone, your implants can become loose or fail. Luckily, you can undergo a bone graft to create more area for implant placement and become a good candidate.
Good Overall Health
Chronic diseases can create risks for dental implant patients. For example, patients with diabetes have a higher rate of dental implant failure because their condition interferes with osseointegration and slows the healing process. Heart disease and sleep apnea can interfere with anesthesia, meaning it can create complications during surgery. Therefore, a dental implant candidate should ideally be free from chronic diseases.
Doesn't Smoke or Excessively Drink Alcohol
Drinking alcohol and using tobacco products can negatively affect your mouth's ability to heal properly. Excessive alcohol consumption can cause dry mouth, inhibit blood clotting, and even lead to bone loss. Smoking increases your chances of developing gum disease and can also contribute to bone loss, potentially resulting in implant failure.
Do you meet all the criteria on this list? If not, don't worry – it's never too late to improve your oral health and become the perfect dental implant candidate!
About the Author
Dr. LJ Adam has helped patients achieve and maintain healthy smiles for over 15 years. After graduating from the University of Pittsburgh School of Dental Medicine, he has attended numerous hours of continuing education courses every year to provide patients with the best treatment possible. If you have missing teeth, Dr. Adam can restore your smile and confidence with dental implants. Are you ready to start your journey? Visit our website or call (724) 297-3446 to schedule a consultation!
Comments Off

on Characteristics of an Ideal Dental Implant Candidate
No Comments
No comments yet.
RSS feed for comments on this post.
Sorry, the comment form is closed at this time.