March 15, 2021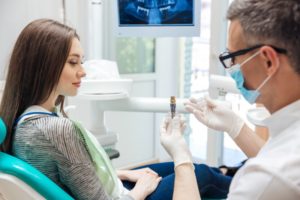 In addition to being the most reliable way of replacing missing teeth, dental implants are quite versatile in their application. Know matter how many teeth you've lost, there is an option to meet your needs. As you continue reading, learn about the different types of dental implants a dentist can use to rebuild your smile and create a more fulfilling life!
How Many Teeth Do You Have Missing?
Before any dental implants are placed, you'll undergo a thorough examination so the dentist can evaluate your oral health and jawbone density, and to determine how many teeth you'll need replaced. This will factor into the type of dental implant you receive.
Single Tooth Dental Implant
Even if you're only missing one tooth, you could experience problems down the road, as the vacancy can encourage the surrounding teeth to shift. Having a single dental implant placed is the best way to mitigate the problem. The dentist will surgically insert the titanium post, later place an abutment (anchor) and, after you've healed sufficiently, a porcelain crown will be added.
Implant-Supported Bridge
The traditional way to replace two to three missing teeth in a row is with a fixed bridge, which consists of a series of porcelain crown fixtures affixed to a single apparatus. However, the restoration can be subject to shifting and limited functionality.
A much more durable and reliable route is to have an implant-supported bridge placed. It consists of two implants and abutments that are covered by a custom-designed bridge that is securely fastened to allow for chewing and smiling with confidence.
Implant-Retained Denture
For patients missing a single arch or entire set of teeth, an implant denture can restore up to 75% of the original chewing capacity. Better yet, there is no need to worry about the denture slipping or dislodging.
The dentist will place four to six angled implants per arch, the purpose of which is to ensure maximum stability in a minimally invasive manner. After the abutments are added, the denture will be custom crafted to create an attractive and highly functional smile.
Don't Let the Window Close
No matter how many teeth you have missing, time is of the essence when it comes to successfully receiving any number of dental implants. That's because prolonged tooth loss can lead to bone resorption. If this happens, then you'll need to undergo a bone grafting procedure to buildup the treatment site.
The sooner you take action by reaching out to an implant dentist to schedule a consultation, the better your chances are of saving time and money – and gaining a healthy and useful smile!
About the Author
Dr. L.J. Adam earned his dental degree from the University of Pittsburgh School of Dental Medicine. He has since gone on to provide superb dental care for nearly two decades. To broaden his knowledge and skills, Dr. Adam takes several hours of continuing education annually. He offers patients multiple dental implant options at his private practice, and he can be reached for more information or to schedule a visit through his website.
Comments Off

on 3 Types of Dental Implants to Replace Your Missing Teeth
No Comments
No comments yet.
RSS feed for comments on this post.
Sorry, the comment form is closed at this time.