October 23, 2020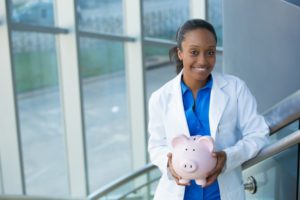 Paying for your dental care can be a bit pricey sometimes, especially if you require a lot of treatment outside of your routine checkups and cleanings. Traditional dental insurance can help you finance your dental care, but it's not your only option. Many dentists offer discount plans as an alternative. How are they different? Which one can save you more money? Continue reading as a dentist in Worthington discusses how to choose between dental insurance and a dental discount plan.
How Dental Insurance Works
Most dental insurance plans provide you with a certain amount of benefits every year (known as your annual maximum) in exchange for a monthly premium. Once you've paid a fairly small amount out-of-pocket, called a deductible, then your insurance company will cover a percentage of the cost of your treatment until you've reached the annual maximum. They primarily cover preventive care, while restorative services like fillings and crowns are partially covered. Elective procedures, like teeth whitening, are almost never covered.
How Dental Discount Plans Work
Dental discount plans are often easier to understand than traditional dental insurance. Instead of having to worry about deductibles and annual maximums, you'll typically just pay a flat yearly fee. Like insurance, preventive care is often fully or almost fully covered. However, discount plans may also reduce the cost of services that insurance doesn't cover, such as cosmetic work.
Which One Is Right for You?
The answer depends on your specific oral health needs. If you adamantly brush and floss daily and don't require much care outside of your routine checkups and cleanings, then a discount plan might be better for you than insurance. But if you had historically had oral health problems like cavities or gum infections, you'll probably need more restorative care, which a dental insurance plan is more likely to cover than a discount plan.
You'll also have to consider where you plan on receiving care. Many dental insurance policies allow you to choose your own dentist, while a discount plan usually only works at one specific office. If you suspect you might have to be referred to an outside specialist, such as an oral surgeon to place dental implants, you might benefit more from insurance.
If you need help deciding which option is right for you, don't be afraid to ask your dentist. Based on the state of your oral health, a member of their team can determine which choice would save you more money. They'll be happy to make your dental care more affordable!
About the Author
Dr. LJ Adam is a dentist in Worthington, PA who earned his Doctor of Dental Medicine degree in 2004 from the University of Pittsburgh School of Dental Medicine. His team will gladly maximize benefits from any dental insurance plan. They also offer a savings plan that nets you a 15% discount on most services for a low annual fee. Plus, they have a Gift Card Challenge, in which every patient (aged 16 and younger) who is cavity-free at their checkup is entered into a monthly drawing to win a gift card to Five Below®. To learn more about how to make your dental care more affordable, visit Dr. Adam's website or call (724) 297-3446.
Comments Off

on Should You Get Dental Insurance or a Dental Discount Plan?
No Comments
No comments yet.
RSS feed for comments on this post.
Sorry, the comment form is closed at this time.