December 7, 2019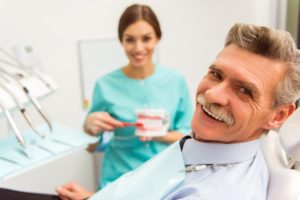 As a child, losing teeth was an exciting sign that you were growing up, and that you might even get a visit from the tooth fairy! Unfortunately, once you get older, tooth loss isn't something to look forward to. Instead, now it means less confidence in your smile, difficulty eating and speaking, and an increased risk of oral health problems. It can even make you look older by causing bone loss and impacting your facial structure! Thankfully, there are several options out there that can restore the look and function of your smile, the most popular being dentures and dental implants in Worthington. Read on for a closer look at the pros and cons of each in terms of cost, procedure time, and maintenance to learn which option is best for you!
Do Dentures or Implants Cost More?
Dentures have come a long way since their over-the-counter drugstore days. Today, depending on the materials used, a quality set of dentures can cost a few thousand dollars. However, they are the more affordable option and will be fully or partially covered by your dental insurance in most cases.
A single dental implant costs $4,000 on average and is often not covered by insurance. Despite their cost, dental implants are a popular choice due to their long lifespan. While dentures will likely need to be repaired or replaced over the years, dental implants are designed to last decades at time, which means that patients may save money in the long run!
How Long Does It Take to Get Dentures or Dental Implants?
The procedure and recovery times of each option are very different. Measuring for and creating a set of personalized dentures usually takes a few different appointments over the course of several weeks. Once you have your new set of dentures, you can go back to your daily life with no recovery time.
On the other hand, dental implants require multiple procedures over several months. This is because dental implants need time to integrate into the jawbone, while dentures simple sit on top of the gums. Once this healing is complete, a restoration is attached to the implant to rebuild your new smile. After the procedure, you'll generally need to stick to a diet of soft foods for a few days before returning to your normal eating habits.
Maintenance for Dental Implants & Dentures
Both options need to be cleaned regularly; otherwise, plaque buildup will cause damage to the surrounding teeth and gums. Dentures can be removed for easier brushing and can be kept in a cleaning solution when not worn. Since dental implants are non-removable, they need to be flossed and brushed while in place at least twice a day just like natural teeth. Both dentures and dental implants need to be evaluated by your dentist at your regular dental checkup every six months to ensure a proper fit and good oral health as well.
Don't let missing teeth keep you from enjoying life. Talk to your dentist in Worthington about how dentures and dental implants can help you regain a comfortable, functional smile! Plus, if you're interested in taking advantage of both styles of tooth replacement, implant-retained dentures are a great compromise, providing the long-term stability of dental implants with the convenience of dentures.
About the Author
Dr. LJ Adam is a general, cosmetic, and implant dentist who has been based in Worthington, PA for over 14 years. He is a graduate of the University of Pittsburgh School of Dental Medicine and attends numerous continuing education courses on the newest developments in general and implant dentistry. His practice focuses on providing people with beautiful and functional smiles, which is why he offers a variety of treatments for missing teeth, including dentures, dental implants, and implant-retained dentures. If you'd like to know more about any of these options, he can be reached at his website or at (724) 297-3446.
Comments Off

on Dentures vs Dental Implants: Which One is Right for You?
No Comments
No comments yet.
RSS feed for comments on this post.
Sorry, the comment form is closed at this time.