September 4, 2018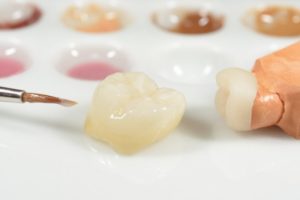 Dental crowns are one of the most common dental restorations provided by dentists because of how useful they can be for improving your smile's appearance, saving teeth and protecting your overall oral health. However, many people aren't sure if their teeth need crowns themselves, especially if there's no pain present. They aren't sure what CEREC in Worthington is or how it can improve their dental visits.
To keep you more informed, here are four questions worth asking the next time you visit the dentist.
Do I Really Need a Root Canal?
Root canals are meant to remove infected tissue from inside the pulp of teeth, sanitize the area, refill it with dental material known as gutta percha and place a dental crown on top. The only reason your dentist would recommend a root canal is if they discovered infected tissue inside your tooth that needs to be addressed before it progresses further. Since dentists need to access the pulp via the top of the tooth, a dental crown is the only way to protect the tooth from future infections.
Think of root canals as an alternative to extracting the tooth entirely, an option dentists always want to avoid. Saving natural teeth is much better than removing them and forcing patients to choose a bridge or dental implant to replace it.
What are My Options?
Many options exist when it comes to dental crowns. Choosing the right crown truly comes down to what your needs are. For example, if you want to have the most natural-looking smile, all-porcelain crowns will fit the bill quite nicely. If your tooth is significantly damaged and is located more towards the back of the mouth, then a crown made from metal alloys or gold will likely be more appropriate.
What's So Special About CEREC?
Speaking of types of crowns, CEREC is a process worth mentioning for those trying to avoid follow-up appointments to receive their crowns. CEREC stands for chairside economical restorative esthetic ceramics. This device essentially allows dentists to create crowns the same day people come in for appointments. That means no follow-up is necessary, there's no need to receive a temporary crown, and you save money overall. They're also quite ideal if you're having a dental emergency and need a dental crown made right away.
Do Older Silver Fillings Need Crowns?
If you have many silver fillings, it does not necessarily mean you need to have them replaced with crowns. It really depends on the size of the filling and how much you care about your smile's appearance. Ask your dentist what they think the best option is for your oral health just to stay on the safe side.
Got a question that wasn't mentioned? Need to get a same day crown in Worthington? Schedule an appointment with a dentist today!
About the Author
Dr. L.J. Adam earned his DMD degree from the University of Pittsburgh School of Dental Medicine.  He's received advanced training in CEREC, allowing him to provide a wide variety of restorations, including dental crowns. To learn more about his practice, you can contact him through his website.
Comments Off

on 4 Things to Ask a Dentist If You Need a Crown via CEREC in Worthington
No Comments
No comments yet.
RSS feed for comments on this post.
Sorry, the comment form is closed at this time.