June 5, 2018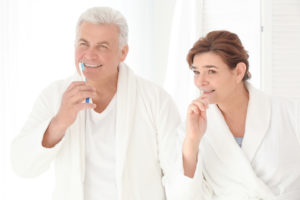 When it comes to keeping your smile healthy after dental implant supported tooth replacement, the good news is that your replacement teeth won't be susceptible to cavities. The bad news is you may still experience other oral health concerns. Many patients think they don't need to bother cleaning their prosthetic teeth, but actually, oral health and hygiene are even more important for patients with one or more replacement teeth. In this post, we'll review some of the reasons oral health and hygiene are so important following dental implant restoration.

Why do I Still Need to Brush My Implant Supported Tooth?
Even though your replacement tooth isn't susceptible to decay, the surrounding teeth still are, so you'll need to continue brushing and flossing teeth as usual. If you have a more advanced implant tooth replacement option like implant supported bridges or dentures, you'll have fewer healthy teeth remaining or no teeth at all, but you'll still need to brush. When food particles, plaque, or tartar remain on replacement teeth for too long, they can adversely affect the health and function of your natural teeth, gums, and other oral structures. Finally, without proper daily care, you are at significantly higher risk for dental implant failure.
How Can the Dentist Help Me Keep My Restoration Healthy?
During regular dental exams and teeth cleaning appointments, your dentist can carefully remove plaque and tartar from the hard to access parts of your smile. Your dentist can also provide guidance for how best to care for your smile at home. By keeping up with your regular at-home hygiene routine and visiting our team twice a year, you ensure your implant supported restoration will remain in place and functional as long as possible. With proper care, implant supported restorations can last two or more decades, and many dental patients are even able to keep their implant retained dental restoration for the rest of their lifetime.
Meet Dr. Adam
Skilled Worthington dentist, Dr. LJ Adam, is happy to offer dental implant placement and restoration services, and he works with patients to maintain healthy smiles following their implant tooth replacement. If you're looking for a new dentist and dentistry team in Worthington or want to learn more about dental implant tooth replacement, call to schedule your appointment today. Dr. LJ and his dedicated team look forward to helping you with all of your dental care needs in our state-of-the-art dental office.
Comments Off

on Stay Cavity-Free with Dental Implant Tooth Replacement
No Comments
No comments yet.
RSS feed for comments on this post.
Sorry, the comment form is closed at this time.