May 23, 2018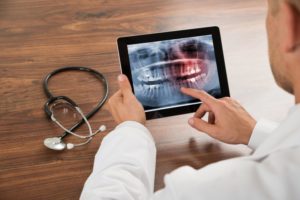 Have your ever wondered why so many X-ray photos are taken when you go in for a visit? Are they really necessary? You may wonder. Your dentist in Worthington is weighing in to explain why these photos are vital to your oral health and how they can aid in preventing serious problems down the road.
What are X-rays Used For?
X-rays (radiographs) are used to give your dentist a visual image of the inside of your mouth, including the roots of your teeth and the bone beneath. Because they provide a window to areas that aren't visible to the naked eye, X-ray images allow for more accurate diagnoses.
Other Uses of X-Rays
One of the commonly known uses of X-rays is to diagnose cavities, but they also provide insight into the following:
For new patients, these images help your dentist establish a base line for your oral health. Thus, if any changes occur over time, he'll have something to compare them to.
X-rays can also be used to monitor your oral health when there have been past issues like cavities or gum disease. Your dentist may recommend more frequent photos to make sure that no new problems have arisen.
Under normal circumstances, your dentist will capture images of your oral cavity at your six-month visits to ensure that your teeth and underlying bone are in good condition.
Advancements in Technology
Some people are leery of having X-rays taken because of the exposure to radiation. One of the more recent breakthroughs in dentistry – digital X-rays – provides for a safer means of capturing pictures of your oral cavity. Your radiation exposure will be up to 90 percent less, and the images are available instantly.
Can X-rays Fight Infection?
A final benefit of X-rays is that they can be used to prevent serious infections that could lead to bone and tooth loss. By identifying them, these photos also can help prevent other serious health issues like heart disease, Alzheimer's, and oral cancer, which are all encouraged by bacteria growth and infection.
The surest route to excellent oral health is by remaining proactive in your efforts. Thus, when you maintain regular visits to your dentist for cleanings and checkups, you can be sure that the wellness of your mouth, teeth, and gums is protected.
To schedule your preventive care visit, reach out to your dentist today!
About the Author
A graduate of the University of Pittsburgh School of Dental Medicine, Dr. LJ Adam has been practicing dentistry for more than a decade. Still, he strives to acquire more knowledge by attending a variety of continuing education courses. Dr. Adam provides expert care for his patients in a state-of-the-art facility and can be reached for more information through his website.
Comments Off

on Why are X-rays Important? Your Dentist in Worthington Weighs in
No Comments
No comments yet.
RSS feed for comments on this post.
Sorry, the comment form is closed at this time.