March 19, 2018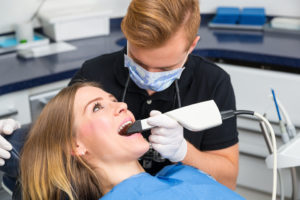 Have you ever even heard about CEREC from your dentist. This acronym literally stands for chairside economical restoration of esthetic ceramics. That's a mouthful, but to put it simply, this is an all digital dental repair system that allows us to make custom, quality ceramic dental crowns and other restorations right in our office. That means you get precision crafted, natural looking restorations without the hassle of making multiple trips to the dentist's office. Many patients find themselves concerned that the cost will be higher, but actually, most patients see only a minimal difference in the cost of their CEREC restoration.

1 – CEREC Restorations are Made from High Quality Materials
One of the main factors that effect the cost of any dental crown is the material. You can receive a restoration crafted from a variety metals, porcelain fused to metal, zirconia, or all ceramic. Each of these solutions has its own unique advantages and disadvantages. However, when it comes to delivering flawless, cosmetic results, high quality all ceramic restorations are always the way to go. The CEREC system uses some of the highest quality ceramic materials to custom craft restorations right in our office.
2 – CEREC Restorations are Made Right in Your Dentist's Office
When a dental restoration is made in a lab, any adjustments that need to be made to the final product mean you have to wait while we ship the restoration back to the lab for changes. CEREC restorations can be precisely fitted and minutely adjusted to ensure perfect fit and function without any additional visits to our office.
3 – CEREC Restorations are all Digital
Traditional restorations require us to use goopy physical molds of the bite that have to be shipped to a dental lab. These impressions often need to be captured more than once to ensure precision, and it can still be difficult to ensure complete accuracy until we get the final dental crown back to our office. The entire CEREC process is digital, including the impressions. That means your restoration design, crafting, and placement process are precisely catered to our unique specifications.
4 – CEREC Restorations Don't Typically Cost Much More
Finally, your dental crown, bridge, or other CEREC restoration will likely only cost a few hundred dollars more than your traditional dental crown. Depending on the material, the average patient with insurance can pay between $300 and $1,000 out of pocket for a traditional dental crown. CEREC crowns typically range between $500 and $1,500. When you factor in the time you save, it's truly a steal.
Meet Dr. LJ
Your trusted Worthington dentist, Dr. LJ Adam, puts his years of training and dedication to precision to work creating flawless, custom dental restorations using the CEREC system. Not every dentist enjoys this aspect of dental care, but Dr. LJ truly relishes having the opportunity to complete your flawless dental restoration plan from start to finish. If you would like to learn more about any of our dental services, including CEREC same day dentistry, please don't hesitate to contact Adam Associates Family Dental to schedule a treatment consultation in our start-of-the-art Worthington dentistry practice.
Comments Off

on 4 Things You Need to Know About the Cost of CEREC Restorations
No Comments
No comments yet.
RSS feed for comments on this post.
Sorry, the comment form is closed at this time.